8 Years Of E-Walls! August Newsletter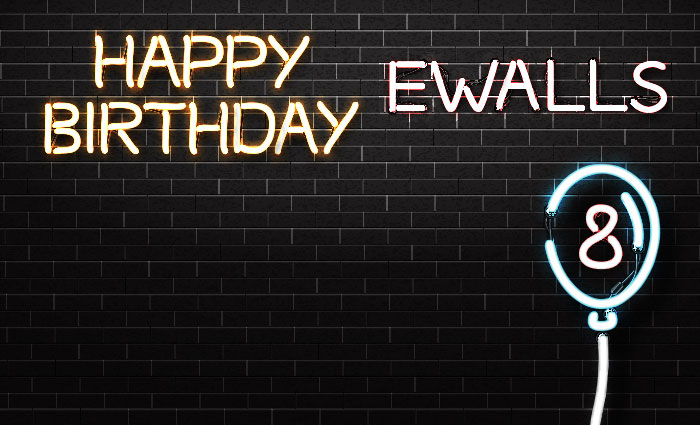 E-Walls Studio has been around as a homegrown, UAE-based business for eight whole years and we couldn't be prouder.

We've come a long way to become the region's leading décor innovation specialist. Or, as we prefer to be known, the region's most awesome happy-place creation station. 
As we blow out the candles, here's eight fabulous reasons we're celebrating right now:
1: A tonne of happy
Over the past eight years, we've helped nearly 1000 corporate clients transform their ordinary offices into funky, one-of-a-kind work places.
FIND OUT : how to inject some happy into your workplace(and why your productivity depends on it)
2: Double Win
We've been winning business awards for our delightfully charming customer service and top-quality products ever since we were small and cute.
Finalist – SME Awards Start-up Business of the Year – 2012   –  Winner – SME Awards for Customer Focus of the Year – 2013  –  Winner – Project of the Month MacTac Awards – 2016  –  Finalist – SME Awards for Customer Focus of the Year – 2015 / 2017
3: Learning to dream
Eight years ago we hadn't even started nursery, and now we've worked with more than 30 schoolson stimulating décor to inspire young minds.
4: Celebrate good times
Three's a crowd but four's a party! We've worked with more than
70 event planners to create occasions worth talking about – from weddings to birthdays, baby showers, corporate launch…
and the list goes on…
5: Save the date
Our gorgeous, shiny, oh-so-useful magnetic calendars are back – just in time to get organised for school!
You might not know this yet, but trust us… YOU NEED THIS IN YOUR LIFE!
6: Laser focus
We started out designing and printing our snazzy wall decals, and now we do so much more.
Check out our laser cutting, engraving, lightbox rentals, acrylics and more on our lovely new website.
7: Lucky stars
We're sooooooooo thankful to have worked with some extraordinary people, and to have met many wonderful clients who developed into life long friends. You're all stars, and we are lucky to have you!
8: What's happy
Now we're eight, we're old enough for WhatsApp! Getting in touch with us is now EVEN EASIER on
+971 58 508 1405
FREE GIFT
But we couldn't have done any of it without YOU! So, to say thank you, we'll be throwing in a free surprise gift with all website orders above 800 AED.
(offer ends 15th September)
Big love, thanks, and birthday wishes from the
team at E-Walls.